For those quietly battling porn addiction symptoms, the fight can be brutal.
Multiple relapses over the years, the guilt, betrayal of loved ones, the erectile dysfunction the jump into acting out in real life
It's a rough journey, alright!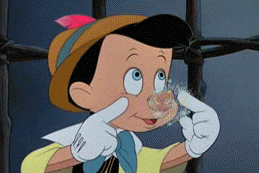 Sometimes, its easier to deal with everything by unconsciously telling ourselves lies. These lies grow and overtime turn out to be the greatest hindrance to our progress.
This post will help you identify the most common lies we tell ourselves about our porn use.
1) Powerless Lie: I can't stop watching porn. I can't quit.
This another lie and a red flag for low self-esteem. Most frequently told when you feel that you are completely powerless to control your addiction.
You CAN quit. You are more powerful than you imagine. Perhaps you grew with some rough experiences that knocked you down a few notches. You can still rise.
Willpower is a muscle- it gets tired, but it will get you far enough to see the mountaintop in this tough climb. Once you have a glimpse at freedom, you will do whatever it takes to get there!
A belief is not an idea held by the mind, it is an idea that holds the mind. – Elly Roselle.
2) Downplay Lie: I must have recovered.
This!
This was one of the biggest obstacles in my porn addiction journey.
I would quit porn and masturbation for a few weeks and feel amazing then the thoughts would begin to slowly creep in well, I haven't felt the urge in so long- I must be fine! Phew- thank God it's not an addiction!
Well, guess what downplaying led to?
I fell right back into the porn and masturbation cycle.
Another variation of this lie occurs when you quit watching porn, but then try to masturbate. To your surprise, you find that it's almost impossible to do so without watching porn. Back to porn again. Both are lies we tell ourselves to rationalize the addiction.
3) Whitewash Lie: I was drunk., I was high, It was right there.
In my college days, excessive drinking and smoking was a one-way ticket to the masturbation station.
No matter how much I wanted to quit, putting myself under the influence invariably led to a relapse. For those trying to give up porn, the effects of alcohol and drugs on the process of quitting cannot be emphasized enough.
Once your inhibitions are lowered, or certain senses chemically heightened, the last vestiges of restraint fly out the window.
4) Minimize Lie: Just 5 minutes.
I'll only look at this anime porn on Tumblr for 5 minutes.
Two hours later and 30 Firefox tabs later, you're exhausted and disgusted from your porn binge.
The time trap always escalates. You play down and attempt to minimize the actual amount of time you know you will spend on porn.
5) Inflation Lie: I'm stressed
I feel like crap, so I deserve to watch porn. It's been a crazy stressful day, screw it, I need this.
Another common lie where you inflate a rough situation into an excuse to binge on porn.
You haven't developed alternate means of coping with stress, so when you experience above-average stress, you automatically return to the thing that soothes you.
Solution: Work on developing positive habits that you can turn to the moment your triggers kick in. Meditation has worked very well for me.
6) Implication Lie: My significant other isn't into what I want.
My girlfriend doesn't give blowjobs and she doesn't like anal.
Yeap- I used that one too, and it nearly cost me my relationship.
It's easy to blame or implicate someone for your porn habits. An easy, but a weak lie.Its also one of the top lies we tell ourselves before, during and after we act out porn fantasies in real life.
In our program Porn Reboot Intensive, I emphasize that taking responsibility is among the first steps to giving up pornography.
7) Privilege Lie: I'm a late bloomer.
I'm a late bloomer, and I missed out. I married early, that's why I'm acting out. Wow. I feel like I've used every lie so far!
As a guy who teaches men how to meet and attract women, I've noticed that this lie is most common among the "Get Girls" crowd in the community.
Men who gain success later on in life develop confidence and improve self-esteem through self-improvement or career success tend to develop a sense of entitlement when justifying their porn or sex addiction. If your habit of having with women outside of your relationship is fueled by porn, it's time to start cutting back.
8) Standard Lie: A man's biology dictates that he should sleep with many attractive women as possible, or every guy does it.
I am guilty of this lie as well. While the statement is true, painting the picture of porn as a normal, standard part of a man's lifestyle as an excuse for porn addiction constitutes lying to yourself.
Not every man watches porn and masturbates on a daily basis. In fact, some of the most accomplished men in history stayed far away from pornography.
9) Non-acceptance Lie: I don't watch porn anymore.
I used this lie for too long. My rationalization was that spending the same amount of time that I used to spend on porn browsing Instagram for chicks in bikinis was obviously not watching porn.
The reboot process is sabotaged the moment you replace your addiction to porn with something else. Its the equivalent of someone addicted to cigarettes trying to quit by switching to e-cigarettes. It doesn't work.
Quitting porn by rebooting involves completely avoiding and isolating yourself from any habits that that may potentially lead to a trigger.
10) Negating Lie: There is nothing wrong with porn, or playing out my addiction in real life.
If you say this, but one day you are attracted to women, and the next you've had sex with more sex workers or prostitutes from Craigslist than actual women, you're lying to yourself.
Porn use escalates as our brain craves more stimulation. Negating the effects of pornography is the singularly most devastating lie you can tell yourself.
What are some of the lies not included here that YOU frequently tell yourself?
I'd love to know. Leave your comments below.